36 Books in 36 Days: Wintering
Each day we highlight one of the 36 finalists leading up to the April 8 announcement of the Minnesota Book Awards, presented by Education Minnesota. Today we feature 2017 Novel & Short Story finalist: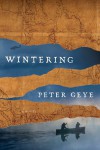 Wintering by Peter Geye
Published by: Alfred A. Knopf/Penguin Random House
Category Sponsor: Fitzgerald in Saint Paul
Wintering spans thirty-some years in the lives of the Eide family in northern Minnesota. Berit Lovig has for decades been a fixture in the town of Gunflint, first as the postmistress, then as the lover of Harry Eide. As the book opens, Harry, now an old man suffering dementia, has just escaped his sickbed and disappeared into the great wilderness that surrounds the town. Given up for dead after a thorough search, Berit takes comfort and consolation in visits from Harry's son, Gus, who tells her the story of the fated winter of 1963, when Gus and Harry ventured into what would later become the Boundary Waters/Quetico Wilderness Areas. Harry had pitched the notion as an adventure, but he had more sinister reasons for seeking the expanse of that wilderness. What greets father and son will pit them not only against the forces of that season and wilderness, but also against each other and their enemies.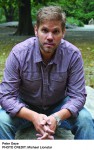 About the Author:
Peter Geye received his MFA from the University of New Orleans and his PhD from Western Michigan University, where he was editor of Third Coast. He was born and raised in Minneapolis and lives there still. He is the author of the multiple award-winning novels Safe from the Sea and The Lighthouse Road.
Rave Reviews:
"A book about love and revenge, families and small towns, history and secrets…a deftly layered and beautifully written novel that owes as much to William Faulkner and it does to Jack London…Make no mistake: Geye is a skillful, daring writer with talent to burn. Simultaneously epic in scope and deeply personal, Wintering is a remarkable portrait of the role that one's environment—and neighbors—can play in shaping character and destiny." —Skip Horack, The San Francisco Chronicle
"Geye's powerful third novel journeys to the frozen places in the American landscape and the human heart…Capturing the strength and mystery of characters who seem inextricable from the landscape, Geye's novel is an unsentimental testament to the healing that's possible when we confront our bleakest places." —Publishers Weekly
"Geye masterfully creates both scene and story in this haunting book about reluctantly interdependent characters and life in the borderlands. In Wintering, the borderlands are familiar, but also omnipotent, merciless and ever changing. The tone, mood and quiet power of the book remained long after the story is finished." – Minnesota Book Awards judge
Beyond the Book:
Audio: Peter Geye speaks with MPR's Kerri Miller
Article: "Minneapolis author Peter Geye soars in a new way with his latest novel, Wintering," Kim Ode, Star Tribune