36 Finalists Blog: A. Rafael Johnson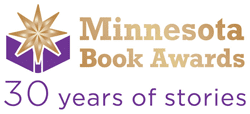 Each day leading up to the 30th annual Minnesota Book Awards Ceremony, we'll be featuring an exclusive interview with one of our 36 finalists. Learn more about these incredible local writers and gear up to see the winners announced live in person April 21.
Interview with A. Rafael Johnson, author of The Through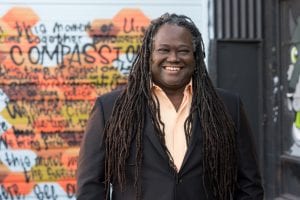 How does it feel to be a finalist for the MN Book Awards?
I'm completely stunned and surprised. It took four years and several rewrites to get the book done. By the time I sent it to my editor, I had no idea if it was any good anymore. I knew it was done, and that I'd said what I needed to say. But I had no idea if anyone would like what I had to say. Being a nominee and hearing so many positive reactions makes me incredibly happy.
What does writing mean to you?
I feel like there's a little gear in my head that tells me stories. It never shuts off. The only way I have of dealing with the constant barrage of narratives is to write them down. At first, I just wrote down everything I thought of. Now, I try to distill what little wisdom I've accumulated on the way, whatever truths that guided me and may guide someone else. That's what fiction is to me: a search for the truth.
Why are stories important for our communities?
Stories help us understand ourselves and each other. Stories can allow us to explore our own psyches, or briefly live the life of someone else. Stories present situations and then show how different people react under different circumstances. How many of us have read a story and wondered how we'd react in that situation? Stories let us think about the situation before it happens and more importantly, think about ourselves and our neighbors.
Tell us something people might not know about you.
I have a rare disease called avascular necrosis. AVN causes the arteries in your joints to wither and die spontaneously. In turn, your bone dies, cracks, and eventually breaks. For most of the four years it took for me to write The Through, I was preparing for, undergoing, or recovering from multiple hip surgeries. I'm doing better at the moment, and looking forward to walking around Powderhorn Lake and practicing yoga.
What do you love about libraries?
I was an aid worker in Liberia for two years. Part of my work there was rehabilitating the library at Cuttington University. During the civil war, refugees hid from the rebels inside the library. Some refugees boiled the leather off of old books and ate it, rather than risk getting shot outside. Most of the refugees survived to tell their stories, and now their lives are part of that library. That's what a library is to me – the place that remembers us when we forget ourselves.
More about A. Rafael Johnson:
Rafael Johnson was born in upstate New York to parents from the Deep South. He grew up in New York, Arkansas, and Texas. He studied drama at The University of Texas at Austin, then lived in Austin for over 20 years. He studied fiction at The University of Alabama, and then became an aid worker in Liberia. After returning and teaching at Alabama, he became a consultant in arts-based evaluation for TerraLuna Collaborative, based in Minneapolis. Johnson's work has appeared in Callaloo, Kweli Journal, African American Review, and Excavating Honesty: An Anthology of Rage and Hope in America. He became a Kimbilio Fellow in 2014.