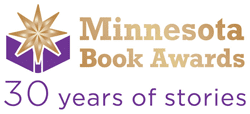 Each day leading up to the 30th annual Minnesota Book Awards Ceremony, we'll be featuring an exclusive interview with one of our 36 finalists. Learn more about these incredible local writers and gear up to see the winners announced live in person April 21.
Interview with Peter Bognanni, author of Things I'm Seeing Without You
Category: Young Adult Literature, sponsored by Brainfuse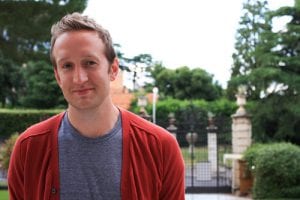 How does it feel to be a finalist for the MN Book Awards?
It feels fantastic. This is my second nomination, but it's been about seven years, so I feel like I'm making a comeback. Mainly I'm just excited to attend the event. Everybody there loves books and there's champagne. I can't think of any place I'd rather spend an evening.
What does writing mean to you?
It means trying to communicate with people I don't know about something I really care about. In the case of this book, grief in the digital age, and how we're all just trying to find our footing in the aftermath of a loss. It also means making as many bad jokes as humanly possible and then cutting most of them before the book sees print.
Why are stories important for our communities?
Stories are the best way I know (short of body-switching) to give people the experience of life in another's shoes. How often do you get to live another life? Books allow you that experience any time you want. The result is a genuine empathetic engagement. Also, stories help us figure out what we really believe. In, short: they are everything.
Tell us something people might not know about you.
I once wanted to be an actor, and I have a cameo in the movie version of my first book. I think I'm on screen for less than a second. So, basically all my dreams have come true.
What do you love about libraries?
My mom is a recently-retired librarian, so I grew up in one. Libraries are home to me. Anyplace that has free books is safe place, and we need all those we can get right now.
More about Peter Bognanni:
Peter Bognanni is a graduate of the Iowa Writers' Workshop. His debut novel, The House of Tomorrow, won the Los Angeles Times Book Prize for first fiction and the ALA Alex Award and has been adapted into a feature film. He teaches creative writing at Macalester College in Saint Paul.