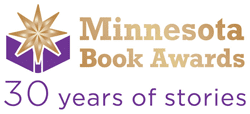 30th Annual Minnesota Book Awards Presented
April 21, 2018, SAINT PAUL, MN – The Friends of the Saint Paul Public Library has announced the winners of the 30th annual Minnesota Book Awards, sponsored by Education Minnesota. In addition to winners in nine categories, The Friends presented the Book Artist, Hognander Minnesota History, and Kay Sexton Awards to previously announced honorees. For the full list of finalists and winners, click here.
Over 800 people attended the awards ceremony at the InterContinental Hotel on Saturday, April 21, emceed by Rohan Preston, theater critic at the Star Tribune. The winners of the 2018 Minnesota Book Awards are:
Award for Children's Literature, sponsored by Books for Africa:
Bao Phi – A Different Pond – illustrated by Thi Bui, published by Capstone Young Readers/Capstone*
While they fish together at a small pond in Minneapolis, Phi's father tells him about a different pond in their homeland of Vietnam, in a story that illuminates the relationship between father and son, and between cultures, old and new. Phi is a multiple-time Minnesota Grand Slam poetry champ and National Poetry Slam finalist, and author of the poetry collections Sông I Sing and Thousand Star Hotel. This is his first children's book.
Award for General Nonfiction, sponsored by the College of Saint Benedict/Saint John's University:
Steve Sack – The First and Only Book of Sack: 36 Years of Cartoons for the Star Tribune – published by Star Tribune Media Co.*
Pulitzer Prize-winning editorial cartoonist Sack has entertained and provoked readers of the Star Tribunesince he first drew for the newspaper in 1981. This collection – published as part of the Star Tribune's 150th anniversary – is a sampling of Sack's brilliant work over the past 36 years. Sack has won numerous national honors for his work, including the 2013 Pulitzer Prize for Editorial Cartooning.
Award for Genre Fiction, sponsored by Macalester College:
Wendy Webb – The End of Temperance Dare – published by Lake Union Publishing
Burnt-out journalist Eleanor Harper welcomes a position at renowned artists' retreat Cliffside Manor.  But as the chilling mysteries of the manor are uncovered, Eleanor must fight to save the artist fellows – and herself – from sinister forces. Webb is also the Minnesota Book Award-winning author of The Tale of Halcyon Crane, The Fate of Mercy Alban, and The Vanishing.
Award for Memoir & Creative Nonfiction, sponsored by Faegre Baker Daniels:
Linda LeGarde Grover – Onigamiising: Seasons of an Ojibwe Year – published by University of Minnesota Press*
Long before the land at the western tip of Lake Superior came to be known as Duluth, it was known to the Ojibwe as Onigamiising, "the place of small portage." These 50 short essays reflect on the spiritual beliefs and everyday practices that still carry the Ojibwe through the year and connect them to this northern land of rugged splendor. Grover, a member of the Bois Forte Band of Ojibwe, is an author and professor of American Indian studies at the University of Minnesota Duluth.
Award for Middle Grade Literature, sponsored by Education Minnesota:
Nicole Helget – The End of the Wild – published by Little, Brown and Company/Hachette Book Group
With Fern's stepfather out of work, the 11-year-old is responsible for putting dinner on the table – and keeping her younger brothers out of trouble. The woods near their home is her refuge, but when a fracking company rolls into town, her special grove could be ripped away. Helget is the acclaimed author of the middle grade novel Wonder at the Edge of the World as well as three adult novels.
Award for Minnesota Nonfiction, sponsored by Saint Mary's University of Minnesota:
Andrea Swensson – Got to Be Something Here: The Rise of the Minneapolis Sound – published by University of Minnesota Press*
In 1958, a North Minneapolis band called the Big Ms recorded Minnesota's first R&B record. This sparked the rise of a distinctive sound that is traced through two generations of political upheaval and artistic passion. Funk and soul become a lens for exploring decades of Minneapolis and Saint Paul history through the neighborhoods and venues, and the lives and times that produced the Minneapolis Sound.  Swensson is an author, radio host, and music journalist. She hosts a weekly program about the Minnesota music scene, "The Local Show," at Minnesota Public Radio's 89.3 The Current.
Award for Novel & Short Story, sponsored by Fitzgerald in Saint Paul:
Lesley Nneka Arimah – What It Means When a Man Falls from the Sky – published by Riverhead Books/Penguin Random House
A woman desperate for a child weaves one out of hair. A disastrous night out shifts an American teenager and her Nigerian cousin onto uneasy common ground. In a world ravaged by flood, experts discover how to "fix the equation of a person." Arimah's debut collection explores the ties that bind parents and children, husbands and wives, lovers and friends and the places they call home. Arimah is a winner of the Kirkus Prize, African Commonwealth Short Story Prize, and an O. Henry Award, and has been a finalist for a National Magazine Award and the Caine Prize.
Award for Poetry, sponsored by Wellington Management, Inc.:
Heid E. Erdrich – Curator of Ephemera at the New Museum for Archaic Media – published by Michigan State University Press
In this collection, Erdrich points to the extraction industries on indigenous lands and how our love of technology threatens our future. Despite how little technology has helped people understand one another, the collection speaks to a human yearning to connect. A collaborative artist, filmmaker, and independent curator, Erdrich teaches in the MFA Creative Writing program of Augsburg College. She is the author of five collections of poetry, including National Monuments, a 2009 Minnesota Book Award winner.
Award for Young Adult Literature, sponsored by Brainfuse:
Andrew DeYoung – The Exo Project – published by Boyds Mills Press/Highlights
Earth has been ravaged by solar radiation. Desperate for money to save his sick mother, 17-year-old Matthew agrees to fly across the galaxy in search of a habitable planet. He lands on Gle'ah and develops an unexpected emotional connection with Kiva, one of the creatures who lives there. As they delve into the dark truth behind the seeming paradise of Gle'ah, their choices will have consequences for both their worlds. DeYoung is a writer and children's book editor. He lives in Saint Paul.
*indicates a Minnesota-based publisher
Special Awards Presented at the Ceremony
The Book Artist Award was presented to Erica Spitzer Rasmussen, for her project The Love Affair – a mixed-media sculptural book handcrafted from pieces of old family letters. The award, sponsored by Lerner Publishing Group and presented with the Minnesota Center for Book Arts (MCBA), recognizes book artists for excellence of a new artistic work and demonstrated proficiency and quality in the book arts, as well as an ongoing commitment and significant contributions to Minnesota's book arts community. Rasmussen teaches studio arts at Metropolitan State University in Saint Paul.
Gary Kaunonen received the Hognander Minnesota History Award for his book Flames of Discontent: The 1916 Minnesota Iron Ore Strike. The book is a working-class history of the 1916 miners' strike in northern Minnesota, one of the most important events in organized labor of the 20th century. The book explores immigrants, mining, and labor relations in Minnesota and beyond. Kaunonen is an independent historian of labor and immigration, author, and documentary filmmaker based in International Falls, Minnesota. This award is sponsored by the Hognander Family Foundation.
Kathryn Haddad received the previously announced Kay Sexton Award. Kathryn Haddad is a local writer, teacher, and community organizer who was nominated for her leading role in creating a space in the Minnesota creative community for the Arab, Arab American, and Muslim communities. Haddad founded Mizna, one of the few Arab American Arts and literary organizations in the country, and started the only literary journal of Arab American literature in the United States. The Award is sponsored by St. Catherine University.
Books written by a Minnesotan and first published in 2017 were eligible for the 30th annual Minnesota Book Awards. A total of 256 books were submitted for awards this year, and 36 books were selected as finalists. The winners were chosen by panels of judges from around the state. Nominations for next year's awards will open in August, 2018. For more information on the Book Awards process, and a list of finalists and winners since 1988, visit www.thefriends.org/mnba.
The Book Awards ceremony will be broadcast in the weeks to come on Saint Paul Neighborhood Network and TPT-MN Channel. Watch the website for updates on air dates.
The 30th annual Minnesota Book Awards is a year-long outreach program of The Friends of the Saint Paul Public Library that fosters our statewide literary arts community. Major funding for the Book Awards was provided by Education Minnesota, as well as the University of St. Thomas Libraries and Graduate Programs in English. Statewide outreach partners include The Loft Literary Center, Minnesota Center for Book Arts, and Minnesota State Arts Board. Media sponsors include Minnesota Public Radio and the Star Tribune.
About The Friends of the Saint Paul Public Library:
The Friends of the Saint Paul Public Library exists to help libraries, and the communities they serve, thrive. An independent, nonprofit organization established in 1945, The Friends invests in the Saint Paul Public Library through fundraising, advocacy, and programming; as a result, our Library is a nationally-recognized leader in serving its community. The Friends also serves libraries across the country and internationally through its consulting services, Library Strategies, and promotes literacy, reading, and libraries statewide as the Library of Congress's designated Minnesota Center for the Book. For more information, contact The Friends at 651-222-3242 or visit thefriends.org.