The Minnesota Crossword Tournament Will Not Return in 2018.
It's been a good run. Unfortunately though, it's time to say goodbye to the Minnesota Crossword Tournament. For six years, we had great competition, fantastic puzzles, and enthusiastic participants at this one-of-a-kind event. We appreciate the enthusiasm of the loyal tournament-goers and will remember the event fondly.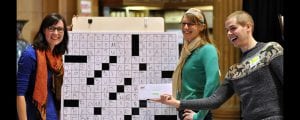 We hope you'll join The Friends at one of our other cultural programs and continue to help us achieve our mission of supporting the Saint Paul Public Library.
Thanks,
The Friends Team