Each day leading up to the 2019 Minnesota Book Awards Ceremony, we'll be featuring an exclusive interview with one of our 36 finalists. Learn more about these incredible local writers and gear up to see the winners announced live in person April 6.
Interview with Gary Eldon Peter, author of Oranges
Category: Novel & Short Story, sponsored by Alerus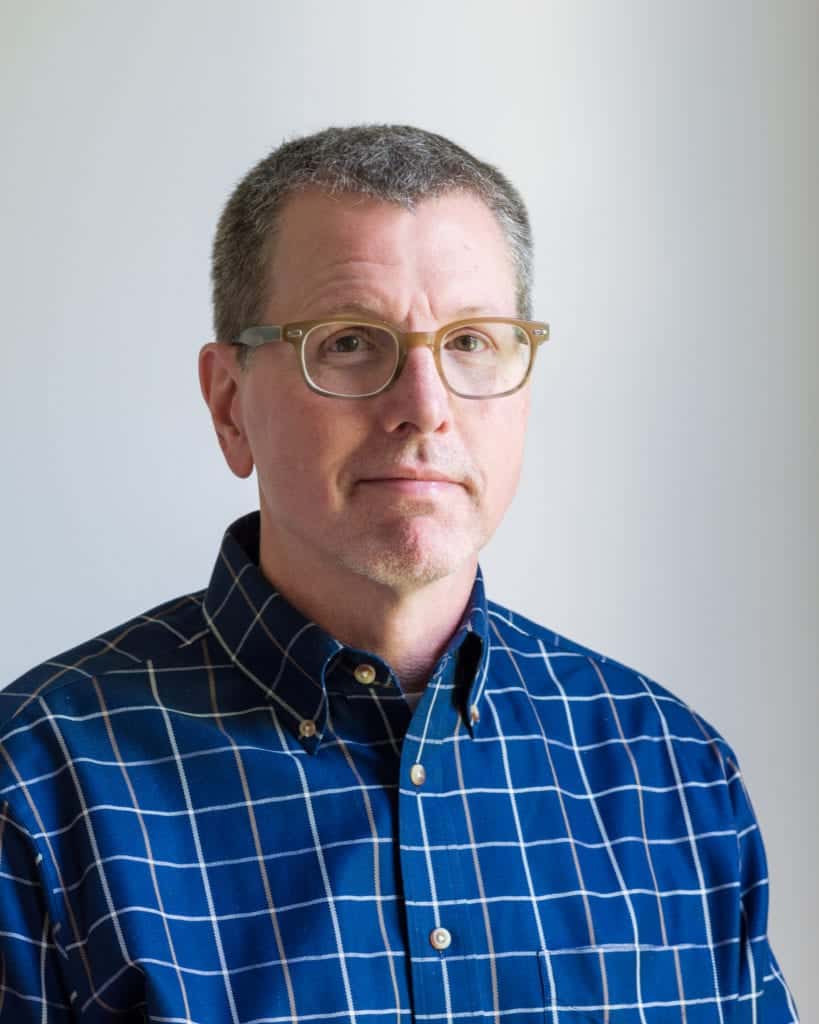 How does it feel to be a Minnesota Book Award finalist?
It is incredibly exciting and gratifying to have this recognition, and to be in the company of such talented novelists and short story writers whose work that I admire so much. And it somehow seems fitting that I found out I was a finalist while working in the library grading papers (which I often do). I was trying to observe library decorum but very much wanted to share my good news…I considered jumping up from my table and announcing to the other patrons what had just happened but I restrained myself!
Tell us something about your finalist book that you want readers to know.
Although it might seem like my book Oranges is about a particular person at very particular points in his life, I hope that anyone who reads it can find meaningful connections to their own experiences in ways they might find surprising…which to me is what good storytelling is all about.
Let us know a little bit about your writing life. What brought you to a writing career and how did you become a published author?
I came to writing fiction later in life, after law school, a brief stab at practicing law, and then many years working in legal publishing. I don't exactly know when or how (or even why) I began, but I started writing early in the mornings, before work, and took classes whenever I could at the Loft Literary Center and the University of Minnesota, where I had great teachers who encouraged me to keep going.
Then, in my mid-thirties, I quit my job, sold my house, and moved to New York to enroll in the MFA program at Sarah Lawrence College. It was one of those life-altering decisions you can't quite explain but at the same time seems inevitable and, with the benefit of hindsight, ends up being life changing. It was in graduate school, 1200 miles from home, that I started to take myself seriously as a writer. Getting an MFA also eventually brought me to a new career in teaching, something I had never imagined myself doing, though now I can't picture myself doing anything else.
The road to a published book was even longer, because it took nearly 20 years for those early stories that I wrote as a graduate student to eventually coalesce into something resembling a book. Then, on August 1, 2017, my life changed again when Nayt Rundquist, the managing editor at New Rivers Press, told me I'd won their Many Voices Project Competition in Prose and that Oranges would be published in Fall 2018. If this winding path with writing has taught me anything, it's to expect the unexpected and to be patient, because you never know what's around the next corner.
Minnesota is often ranked highly as a state that values literature and reading. In your experience, what is it about our state that makes it such a welcoming place for writers and book creators?
Whenever I go to a writers' conference or an artist residency and I mention that I live in Minnesota, people invariably respond with something along the lines of how lucky I am, because they know its reputation when it comes to support for the arts. I think it has a lot to do with the resources that are available for writers, which are many: generous grants, opportunities to hone your craft through classes and workshops in a variety of different settings, the many readings happening on any given night at our bookstores and libraries. It's something that I try not to take for granted, because I'm very grateful for the excellent support I've received for my work.
What is something you are good at that few people know about?
While I don't think I'm quite ready for yet another career change, I'm a pretty decent piano player, even though I can't sight read to save my life.
What do you love about libraries?
Libraries and books were a huge part of my life growing up. I loved my elementary school library and often the best part of the week was checking out a new book, especially if I was the first one to find it. I also was a frequent visitor to our local Carnegie library because, in addition to books, you could check out LP vinyl recordings of both music and literature which opened up another world to me. And libraries are one of my very favorite places to write.

About Gary Eldon Peter
Gary Eldon Peter's work has appeared in Water~Stone Review, Great River Review, and other publications. His awards include a McKnight Artist Fellowship for Writers/Loft Award in Creative Prose, two Minnesota State Arts Board grants, and artist residencies at the Kimmel Harding Nelson Center for the Arts, the Millay Colony for the Arts, the Ragdale Foundation, the Virginia Center for the Creative Arts, and the Anderson Center. He holds an MFA in Creative Writing from Sarah Lawrence College, a JD from William Mitchell College of Law, and teaches in the College of Education and Human Development at the University of Minnesota.