Each day leading up to the 32nd annual Minnesota Book Awards Ceremony, we'll be featuring an exclusive interview with one of our 36 finalists. Learn more about these incredible local writers and gear up to see the winners announced live in person April 28.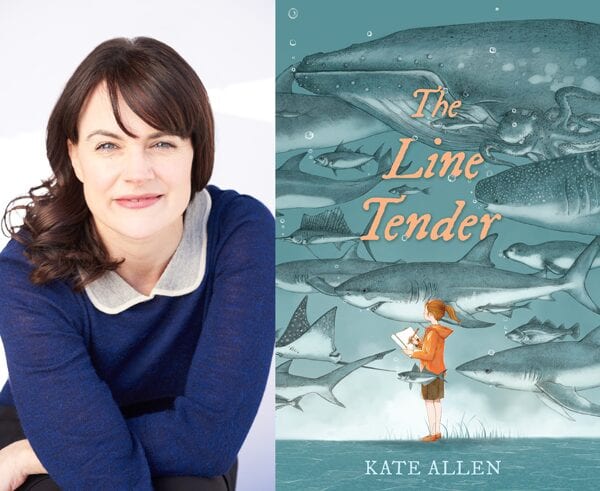 Interview with Kate Allen, author of The Line Tender, part of the Middle Grade Literature category, sponsored by Education Minnesota
How does it feel to be a Minnesota Book Award finalist?
I remember going to the Awards Ceremony several years ago to support Kaethe Schwehn, a good friend who won an award that night. I walked around the tables, shaking hands with authors like Kate DiCamillo and Marlon James. As a transplant from Massachusetts, I felt both star-struck and grateful to be a writer in the Twin Cities. I'd been working on drafts of The Line Tender at the time. I didn't have an agent yet. Five years later, it feels surreal to be a finalist.
Tell us something about your finalist book that you want readers to know?
One of the threads in the book explores some of the ways in which science and art are connected. In the beginning of The Line Tender, the main character, Lucy, identifies as an artist and feels distanced from math and science. (This part is semi-autobiographical.) Later in the book, Lucy follows the trail of her late mother's shark research to learn more about the white sharks that are appearing off the coast of Massachusetts. She uses her drawings to better understand shark anatomy. And scientific and artistic exploration becomes a means to human connection for Lucy.
Share something about your writing process and preferences. For instance, where is your favorite place to write?
I always write on weekend mornings before the rest of my family is awake. My brain feels more elastic in the early morning and I like the quiet. If I'm on a deadline and I need to get serious, I work at my desk in my home office. Otherwise, I share a couch in the sunroom with my dog, Tilly. She takes her first nap of the day beside me and I try to make some progress on my laptop.
Minnesota has a reputation as a state that values literature and reading. In your experience, what is it about our state that makes it such a welcoming place for writers and book creators?
Shortly after we moved to Minnesota, I went to an open house at the Loft, where I signed up for a novel writing class. I'd hoped that I could start writing a book there, but I was surprised at how the Loft helped me feel more rooted when I was new to the state. I met my writing group there. I listened to authors share their work in the performance space. I signed up for more classes. Generally speaking, Minnesota has a number of organizations that provide grants, mentorships, and residencies to help writers develop their craft. This sends a message to writers that their work is valued and that support is available.
What is something you are good at that few people know about?
I am a music fan. And I'm very good at remembering song lyrics.
What do you love about libraries?
I love books and the librarians who share them with readers. I also think libraries are unique community spaces. They provide information to people, internet access, a place to rest, a place to connect with other humans. And librarians are essential to making this community space function. The job has become much larger than managing books and information.
Kate Allen grew up in Massachusetts and lives in Minneapolis with her family. This is her first novel.
See the winners announced live at the Minnesota Book Awards Ceremony! Presented by Education Minnesota; media sponsor: Star Tribune.