Each day leading up to the 32nd annual Minnesota Book Awards, we'll be featuring an exclusive interview with one of our 36 finalists.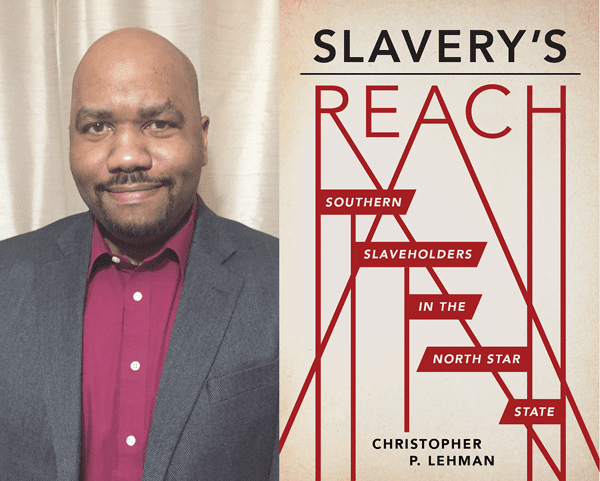 Interview with Christopher P. Lehman, author of Slavery's Reach: Southern Slaveholders in the North Star State, part of the Minnesota Nonfiction category
How does it feel to be a Minnesota Book Award finalist?
Being a finalist feels great, and I am very honored and humbled by it.
Tell us something about your finalist book that you want readers to know?
The sources that I found for my finalist book were very accessible. For generations people have written about southerners – especially summer tourists – investing in Minnesota before the Civil War. However, my book goes a step further by looking at which investors enslaved people in the South and how Minnesotans spent that capital from slave labor. By doing so I hope readers see that money from enslavers shaped antebellum Minnesota and at terrible physical and emotional costs to the enslaved people funding that development.
Share something about your writing process and preferences. For instance, where is your favorite place to write?
My favorite place to write is at home on my couch, and I'll spend hours writing my ideas or my findings in a notebook. I write things by hand before I type them. Also, my finalist book came out of my hobby of genealogy. For about twenty years I have used census records, slave schedules, and probate court documents to find information about my ancestors. For my book I studied those same kinds of sources when tracing the southern buyers I saw in old real estate deeds.
Minnesota has a reputation as a state that values literature and reading. In your experience, what is it about our state that makes it such a welcoming place for writers and book creators?
Minnesota is a relatively recent state, and as a result its territorial years and early statehood have been recorded in newspapers, photographs, and other forms of technology. However, Minnesota is old enough to have been a territory and state during the last sixteen years of legal slavery in this country. I'm grateful to have been able to study slavery's relationship to Minnesota's statehood through numerous primary documents.
What is something you are good at that few people know about?
I am good at drawing cartoon characters. I am better at the older characters (pre-1960s) than the newer ones.
What do you love about libraries?
I love spending hours reading valuable archived documents, studying in a quiet atmosphere, and finding some helpful sources on a bookshelf while looking for other sources.
Christopher P. Lehman is a professor of ethnic studies at St. Cloud State University and the author of Slavery in the Upper Mississippi Valley, 1787-1865.