Each day leading up to the 32nd annual Minnesota Book Awards announcement, we'll be featuring an exclusive interview with one of our 36 finalists.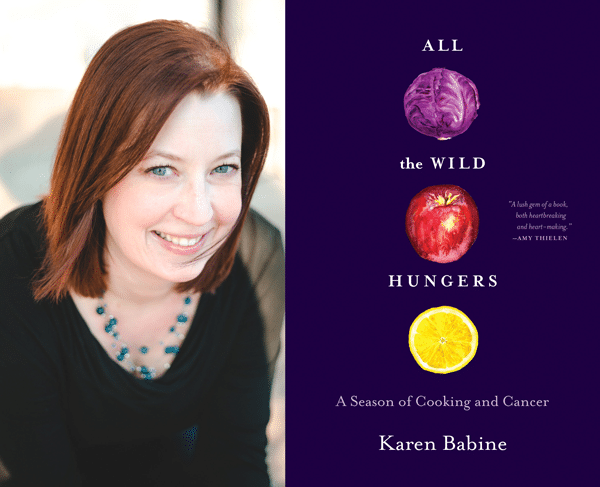 Interview with Karen Babine, author of All the Wild Hungers, part of the Memoir & Creative Nonfiction category, sponsored by Bradshaw Celebration of Life Centers
How does it feel to be a Minnesota Book Award finalist?
I'm so honored. Minnesota has such a rich literary history that it's thrilling simply to be in the same room with writers I admire so much.
Tell us something about your finalist book that you want readers to know.
My favorite thing about this book is that I learned that "nibling" is the gender neutral for niece and nephew. For all that this is a book about cooking for my mom through cancer and chemo, there's a lot of joy and delight in it. Being a vegetarian cooking for carnivores was pretty funny, and I love teaching the kids how to cook. It's the best part of being an aunt: sugar them up and send them home.
Share something about your writing process and preferences. For instance, where is your favorite place to write?
For this book, I did Morning Pages at the dining room table in the early mornings, three pages of longhand writing before I did anything else in the day, and that suited not just the topic and the approach, but the particularly movement of my brain in those days. Now that I've moved from Minnesota to Chattanooga and am working on a new project, I'm learning just how much each project chooses its own process. I can't write this one with Morning Pages, but I'm finding deep inspiration in research. I'm still in the process of getting fully unpacked, so my favorite place in the house to write is at the dining room table, which looks out over my backyard. It's hard not to see the cardinals at my feeders and think of the cardinals at my parents'. We have sun this morning and it's a glorious place to write.
Minnesota has a reputation a place that values literature and reading. In your experience, what is it about our state that makes it such a welcoming, conducive place for writers and book creators?
My favorite trivia is that the first American to win the Nobel Prize for Literature was a Minnesotan, because especially my Minnesotan students always felt that literature happened elsewhere, writing wasn't valid unless it happened outside of Minnesota. I remember reading Paul Gruchow for the first time, right after he'd won the MN Book Award for Boundary Waters, and realizing what mattered was the attention and intensity of what a writer brought to a page. Sigurd F. Olson was instrumental in getting the Boundary Waters protected because he wrote about it. There's something compelling about that. Minnesota is a complex place. Always something to write about.
What is something you are good at that few people know about?
It's a narrow skill, but since I camp by myself, I'm proud of being able to hitch my camper on my own–and back the Scamp into campsites without help. It took a lot of practice, but I'm pretty proud of it.
What do you love about libraries?
I grew up in Nevis, population 300, and we didn't have a library. There was one in Park Rapids, 12 miles away, but we rarely went there. On Thursdays, though, the Bookmobile came to town and parked two blocks away from our house and every week, I'd load up with new books to read. What I love most about libraries is accessibility, whether it's the practical accessibility of being a hub for information or computers, or the accessibility of making sure that books get into the hands of readers who need them. The best part of that is that the book you went into the library for might not be what you leave with.
Karen Babine is the author of Water and What We Know, a Minnesota Book Award-winner, and the editor of Assay: A Journal of Nonfiction Studies.