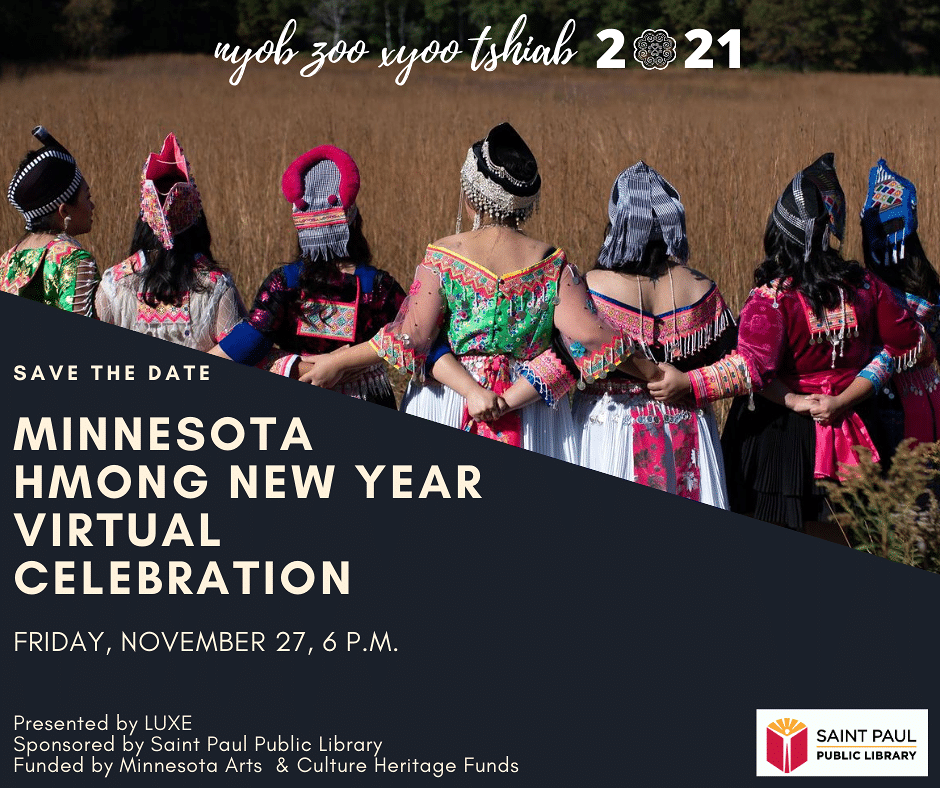 The Saint Paul Public Library is celebrating the Hmong New Year during the month of November, with a virtual residency by musician David Yang and sponsorship of the Minnesota Hmong New Year Virtual Celebration on Friday, November 27. Join us in celebrating the Hmong writers who make Minnesota their home, as each week a writer shares their thoughts on what Hmong New Year means to them.
---
May Lee-Yang is a playwright, poet, prose writer, performer, and teacher. Her plays include The Korean Drama Addict's Guide to Losing Your Virginity and Confessions of a Lazy Hmong Woman. She's the author of the children's book The Imaginary Day. For more info, go to lazyhmongwoman.com.
---
Mai Neng Moua is a writer spinning tales of what it means to be Hmong in America. Her memoir, The Bride Price: A Hmong Wedding Story was published in 2017. She is the founder of Hmong literary journal, Paj Ntaub Voice and the editor of Bamboo Among the Oaks: Contemporary Writing by Hmong Americans. She lives in Minneapolis with her husband and two girls. For more info, go to hmongmuseummn.org and mnhs.org/mnhspress/books/bride-price.
---
V.T. Bidania was born in Laos and grew up in Saint Paul, Minnesota. She has an MFA in Creative Writing from The New School and received a Mirrors and Windows Fellowship from the Loft Literary Center. She is the author of the ASTRID AND APOLLO series, which stars 8-year-old Hmong American twins from Minnesota. This four-book early reader series is available now. She lives outside of the Twin Cities with her family. For more info, go to vtbidania.com and check out this article in Minnesota Monthly.  
---
For more information on the Minnesota Hmong New Year Virtual Celebration, CLICK HERE.
For more information on the Virtual Music Residency with David Yang, CLICK HERE.