Each day we highlight one of the 36 finalists leading up to the April 8 announcement of the Minnesota Book Awards, presented by Education Minnesota. Today we feature 2017 Young Adult Literature finalist: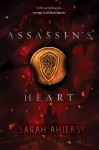 Assassin's Heart by Sarah Ahiers
Published by: HarperTeen/HarperCollins Publishers
Category Sponsor: Brainfuse
Seventeen-year-old Lea Saldana is a trained assassin. She was born into one of the nine clipper Families in the kingdom of Lovero who lawfully take lives for a price. As a member of the highest-ranking clan, loyalty to Family is valued above all, but that doesn't stop Lea from getting into a secret relationship with Val Da Via, a boy from a rival clan. Despite her better judgment, Lea has fallen in love with him; but she's confident she can anticipate any threat a mile away. Then she awakens one night to a house full of smoke. Although she narrowly escapes, she isn't able to save her Family as their home is consumed by flames. With horror, she realizes that Val and his Family are the only ones who could be responsible. Devastated over his betrayal and the loss of her clan, there's just one thing on her mind: making the Da Vias pay.
With shades of The Godfather and Romeo and Juliet, this richly imagined fantasy is a story of love, lies, and the ultimate vengeance.
Sarah Ahiers has an MFA in Writing for Children and Young Adults from Hamline University and lives in Minnesota with her dogs and a house full of critters. She has a collection of steampunk hats and when she's not writing she fills her time with good games, good food, good friends and good family. Sarah writes Young Adult and Middle Grade novels and occasionally dabbles in Picture Books. Fantasy is her favorite genre, though she sometimes can be found playing around with Horror and other things that go bump in the night. Follow her on Twitter.
Rave Reviews:
"Equal parts adventure, romance, and politics, Ahiers' first novel is astonishingly good. This is a unique twist on a love story and the exciting Godfather-esque plotline adds layers of intrigue." —Booklist (starred review)
"Ahiers's Romeo and Juliet-inspired world of gods, angry ghosts, and assassins is darkly lush, and Lea's voice is strong and pragmatic, making for a stylish and rich read." —Publishers Weekly
Excerpt:
Read the first four chapters of Assassin's Heart here.
Beyond the Book:
Interview: Sarah Ahiers speaks with Natalie Aguirre of the Literary Rambles Blog 
See the Winners Announced Live!
Award winners will be announced at the 29th Annual Minnesota Book Awards Celebration on Saturday, April 8, 2017 at the InterContinental Saint Paul Riverfront. The evening features a Preface Reception with author meet-and-greet and book signing; the Awards Ceremony with live music, celebrity presenters, artisan cheese plates and complimentary wine; and the Epilogue After-Party with complimentary champagne, desserts, and more live music.